Teach For Australia
Art Direction
Brand Development
Brand Strategy
Brand Styleguide
Copywriting
Digital & Print Design
Marketing Collateral
Kids are falling through the education gap. You didn't. They Shouldn't.
Teach For Australia presents a different pathway into teaching. By taking top university graduates from specialist undergraduate degrees such as engineering, science, psychology etc, and putting students through an intense Masters of Education where students spend school holidays at University and the school term teaching in classrooms of disadvantaged schools across the country, TFA is able to develop exceptional leaders for secondary schools throughout Australia.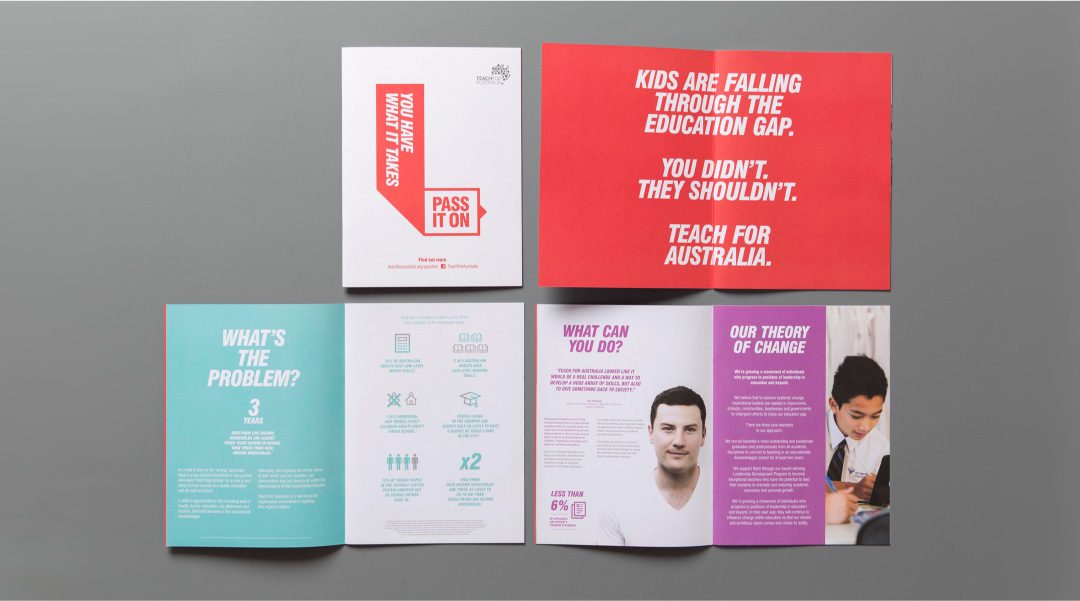 We worked with TFA to develop their brand charter and narrative. Through staff surveys, a series of stakeholder interviews (internal and external) and executive workshops we developed the brand essence and values, proposition, position, personality and brand narrative.
The campaign was successful and was awarded the Most Popular Integrated Marketing Campaign (Private Sector) by the Australian Association of Graduate Employers in 2015. Within the first twelve months, 24% more people applied for the program and amongst those who applied, 48% said that the first place they heard about Teach For Australia was via the Pass It On campaign.